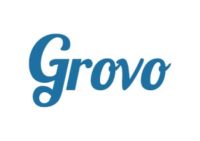 It helps us to be more effective. Did a customer watch one video or two? How much time did they spend on a particular slide? ClearSlide lets us see how customers are engaging with every piece of content we send, so we know we are providing the information that's most important to them.
Grovo is a learning technology company that gives enterprise organizations the technology and content to align, train and develop their teams.
Challenge
Grovo's customers are diverse with different pain points & needs. Grovo's sales team needed to be ready to send relevant sales decks at a moment's notice
Gain real-time insight into what information customers in specific segments want most
Grovo's customer base, served by a fast-growing team of more than 60 sales professionals, includes three core segments: enterprise, midmarket, and higher education. About 98 percent of the sales team's qualified leads originate from Grovo's marketing team.
"We do a lot of content marketing," says Aryanne Ferranti, Senior Director of Sales Strategy & Operations for Grovo. "It's essential for our sales teams to understand what elements of our collateral prospects are interacting with, so they can follow up with additional information tailored to their specific needs."
Customers in each core segment have different interests and pain points, which means Grovo's sales team needs to be ready to send relevant sales decks and other collateral at a moment's notice — including after a deal is closed.
"Our sales approach is full service and very high touch," says Ferranti. "Every client is assigned a dedicated account manager and client success manager who work closely together to help support the customer's needs as they evolve."
Solution
A tailored sales approach – from the first outreach to onboarding and beyond
Grovo turned to ClearSlide to give every person on its sales team the ability to engage both prospects and clients with relevant collateral. Now, inbound and outbound lead generation teams can see how potential customers are engaging with links to sell sheets and sample videos from Grovo's vast content library. ClearSlide also gives them the ability to share videos in real time with prospects.
"Our account executives use ClearSlide in a similar way with our customers, sending links to case studies and sales decks," says Ryder Fyrwald, Sales Manager, for Grovo. "Account executives will also go through a sales deck with a customer on the phone, then send it as a follow-up to see what information that customer is reviewing."
Account managers use ClearSlide specifically to help customers through the onboarding process, connecting them with demos that explain in detail how to use Grovo. "Our account managers also send collateral through ClearSlide when cross-selling or upselling products to grow accounts," says Fyrwald.
ClearSlide's ease of use allowed Grovo's sales team to share collateral instantly
Inbound and outbound lead gen teams can now see how potential customers are engaging with collateral
Result
A more effective salesforce – and better sales outcomes
According to Ferranti, ClearSlide has been a key factor in helping the sales teams engage customers with the right content at the point of interest. Each team has content tailored to their part of the sales process, and ClearSlide helps them delivers with ease, and backed by powerful analytic insights.
Another strategy Grovo's sales team employs is to use ClearSlide and Salesforce together. "We upload all of our collateral to ClearSlide, which is connected to Salesforce. The notes we take directly in ClearSlide during a call with a customer goes into Salesforce, as well," says Fyrwald. "This helps our sales professionals ensure that they are following up on every potential sales opportunity."
Each segment of the sales team (enterprise, midmarket, & higher education) has content tailored specifically for them.
The sales team now has powerful anayltics insights about how their potential customers are viewing collateral
Salesforce integration allows reps to take notes in presentations that are disseminated to the rest of the team through the CRM
Company
A learning technology company reinventing employee training for the 21st century
When companies need a better way to train their teams, they turn to Grovo. Founded in 2010, Grovo combines technology and "microlearning" video content to teach employees everything from Slack and Salesforce to project management and innovation. Its platform organizes and delivers a library of 60- to 90-second videos that cover everything the modern company needs, the way that 21st century brains learn.
Grovo originally targeted the consumer market, but became B2B-focused when companies like Chevron and Pitney Bowes looked to Grovo to help them provide more effective training to their employees. The New York City-based company has been on a rapid expansion track since late 2013, experiencing more than 20 percent growth month over month for the past 20 months.